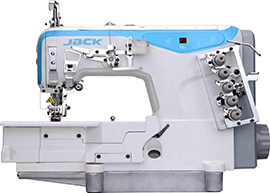 JK W4 /GB/BB
Interlock Flatbed / Binder
Is a direct driven flatbed 5 thread 3 needle cover stitch machine. A cover stitch machine is when two needles are used to create visible parallel rows. This is perfect for seaming of sportswear, swimwear, t-shirts, and different types of knitted fabrics to retain the fabrics stretch ability. A binding device can be added for interlock binding for T-shirts.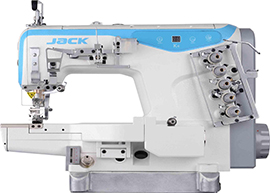 JK K4D
Cylinder Arm Interlocker.
Features a narrow cylindrical bed, allowing for the fabric to pass around the unherbed. Used for cuffs baby wear and difficult to reach spaces. Various sub classes, Direct Driven, Electromagnetic "top and bottom trimming and Automatic with left hand suction trimmer.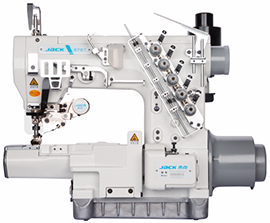 JK 8787-01X365
Small Cylinder Head Interlocker.
Various types of interlock machines 1. Feed off the arm, 2.Left hand trimming devise. 3 Extra small cylinder arm